Music Makers: At Home in America (4-7 yr)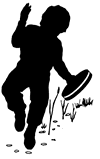 Music Makers: At Home in America
is a 45-minute class in which students use flashcards to begin learning about rests, common melodic patterns, rhythmic patterns in duple and triple meters, and dynamic markings. In the earlier Musikgarten age groups children learn elements of music like steady beat, rhythm, melody, and expression by "doing." Music Makers is the first of the Musikgarten classes to begin actively discussing "how" music is read and written.
Music Makers is a wonderful preparation for future private music lessons, although students need not be planning to take music privately to enjoy the academic benefits of class. While we begin more advanced intellectual and musical activities, there is still lots of time for singing, dancing, reading stories and poetry, games, and instruments, including maracas, bongos, tambourines, the glockenspiel, metallophone, resonator bars, and keyboards. We likewise use posters and listening activities to begin identifying musical instruments from the woodwind, brass, string, and percussion families.
There are three semesters in a year, covering a total of 6 units: 1) My Home Place, 2) My Neighborhood Community, 3) Woodlands, 4) Cattail Marsh, 5) Meadow, and 6) Seashore.
---
To register for this class, please go to the "Registration and Order Forms" page. Trial classes available by appointment only.
---
Supplemental material for Music Makers: At Home in America may be purchased using the Order Form
. Please complete the Order Form and send it, along with payment, to 601 Deltino Ct., Lexington, KY 40515. Upon receipt of your order, we will contact you to confirm.

HOW WILL MUSIC MAKERS: AT HOME IN AMERICA BENEFIT MY CHILD?
Learn about the music, instruments, history, food,
culture, and customs of a variety of countries and
ethnicities, including the United States.
Children enjoy intricately choreographed social dances with scarves and hoops.
Early multi-cultural education promotes tolerance and respect for others.
Children learn vocabulary, songs, poems, and stories from other languages.
Class involves in-depth studies of many different composers and performers, including Bach, Handel, Mozart, Haydn, Strauss, Beethoven, Dvorak, Copland, Louis Armstrong, Scott Joplin,
and others.
Students study national heroes and historical figures of America and other countries.
Students learn the geography and landmarks of each country, including the U.S.
Students listen to lesser-known instruments like the zither, Irish harp, pipe organ, Indian flute, harpsichord, Scottish bagpipes, and tubular bells.
Students learn to read and write music using flashcards and song pages.
Students begin to play in ensembles using the glockenspiel, resonator bars, metallophone, maracas, bongos, triangle, guiro, rattles, jingles, drums, rain stick, sand blocks, and rhythm sticks and occasionally keyboards.

---
BELOW IS MORE INFORMATION ON MUSIC MAKERS: AT HOME IN AMERICA
For students 4 – 7 yrs.
There are three semesters in a year covering a total of six units: 1)My Home Place, 2)My Neighborhood Community, 3)Woodlands, 4)Cattail Marsh, 5)Meadow, and 6)Seashore
Each unit offers listenings, animal pictures, and a poster with attachable game pieces for studying each environmental habitat
Each class offers students the opportunity to play/sing solos and work on ensemble development with the group
Students use flashcards to begin learning about rests, common melodic patterns, rhythmic patterns in duple and triple meters, and dynamic markings, etc.
Students use posters and listening examples to learn about various musical instrument groups, including strings, brass, woodwinds, and percussion
There is a patriotic theme to our class; we'll study several Presidents, national landmarks, American composers, and learn patriotic songs
This curriculum is a wonderful preparation for Music Makers: At the Keyboard I (6-10 yrs.)
This course alternates years with Music Makers: Around the World (same age group, same difficulty level, different songs and activities)
Helpful Suggestions to Parents
:
Please keep food, drinks, toys, and other distractions in the car or hidden from view
Try to make bathroom stops before class begins
You can reinforce the information learned in class by practicing the Family Packet material at home and discussing and/or looking for national landmarks, leaves, insects, animals, snowflakes, etc.
There is a $15 Registration Fee per child which lasts for the Fall-Fall school year
Tuition: 15 weeks x $12 = $180
There is a $30 discount for families that have 2 siblings enrolled in group classes and a $45 discount for families with 3 siblings enrolled, etc.
Student visitors (friends and/or relatives) are welcome to attend classes at any time; they can pay just for the class that they attend. Please call Jennifer ahead of time to schedule visitors.
Tuition fees are nonrefundable except in the cases of extreme illness or out-of-state moves. Registration and material fees are not refundable.
You are welcome to do a makeup class in one of the other Music Makers: At Home in America sections, but it is a good idea to call the teacher of the makeup class first in case there have been any schedule changes
Makeup classes should be done during the same semester as the missed class
Family Packets and Instruments
:
There is a Music Makers Family Packet available for each unit of class
Buying the Musikgarten Family Packets is optional; however, we have found that children who are exposed to the songs/activities more often tend to learn more and participate better in class
Family Packets are a wonderful resource for parents who are looking for educational and fun things to do with their children
Children love to listen to the activities/songs in bed, in the car, and during playtime
Musikgarten also sells drums, rattles, jingles, rhythm sticks, glockenspiels, sand blocks, Chinese bells, finger cymbals, scarves, and T-shirts that parents can purchase at any time.