Musikgarten Chorus
This 60-minute group ensemble offers a great choir experience for children and teens. Students will be practicing the techniques for good vocal breath support while working with our professio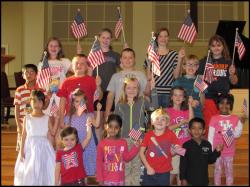 nal voice and piano instructors. They will enjoy a fun repertoire of varying styles including Classical, Contemporary, Patriotic, and Broadway. Every semester will include a concert/performance.
---
Musikgarten Chorus rehearsal for Jennifer Tutt's 18th Annual Fall Recital 2014
---
Music literacy and performance are goals of this class.

This will aid the student in all future music making activities. While this curriculum builds on the repertoire and musical skills learned in the

Musikgarten

0 – 7 yr. program, it also establishes a music and movement foundation for older students encountering their first formal musical experience.





Please consult Jennifer Tutt before mailing enrollment for this age group. Schedule TBA by class.
---
To register for this class, please go to the "Registration and Order Forms" page.
---
The

supplemental material for the Musikgarten Chorus may be purchased using the Order Form
. Please complete the Order Form and send it, along with payment, to 601 Deltino Ct., Lexington, KY 40515. Upon receipt of your order, we will contact you to confirm.

HOW WILL THE MUSIKGARTEN CHORUS BENEFIT MY CHILD?
Class is intended to be enjoyable for beginner and advanced singers since they will be performing in a social setting with friends.

The social aspect of class will help students want to practice more at home to keep up with their peers.

This class provides a pathway to music literacy, as students are hearing, singing, and reading their music.

There is an aural focus to class: students don't just read the notes, they listen to whether it sounds correct or not.

Students will sing pieces in duple/triple meters, major/minor tonalities, from a wide variety of musical genres and time periods.

Students can go on to private lessons in voice or other instruments with a wonderful preparation for the challenges and discipline required to succeed and become proficient.

Students develop overall musicianship and

ensemble skills that will help in private voice, choir,

band, or orchestra later.

---


HERE IS MORE INFORMATION ON THE MUSIKGARTEN CHORUS
There are 3 semesters in a year

There are 15 hour-long classes in each semester

Parents may be asked to participate in the last 5 – 15 minutes of class to learn songs, dances, ensemble work, and assignments for home practice; as well as discuss upcoming performances.
Helpful suggestions for parents
:
Students should bring a water bottle to class, but please keep food, other drinks, toys, and distractions in the car or hidden from view

Try to make bathroom stops before class begins

You can reinforce the information learned in class by helping your student during their daily practice

Please bring a folder for sheet music, and a pencil in a tote bag to keep them clean, dry, and easily accessible during class

Tote bags can be ordered from Musikgarten

Parents and siblings who are waiting during class are welcome to wait in the waiting room, or the party room if not in use
You are welcome to do a makeup class in one of the other Musikgarten Chorus sections, but it is a good idea to call the teacher of the makeup class in case there have been any schedule changes

Makeup classes must be done during the same semester as the missed class
There is a $15 Registration Fee per child which last for the Fall – Fall school year

Tuition is $11 per class x 15 weeks = $165

There is a sibling discount for families with more than one child enrolled (two siblings = $30 discount; 3 siblings = $45 discount; etc.)

Student visitors (friends and/or relatives) are welcome to attend class at any time; they can pay just for the class they attend (please call Jennifer ahead of time)

Tuition, registration, and material fees are nonrefundable except in the cases of extreme student illness or out-of-state moves

You are welcome to order any of the Musikgarten instruments, materials, and T-shirts; it will be beneficial to the student to have a drum and glockenspiel available at home for practice
Every class provides an opportunity for vocal music-making (melodic, chordal, rhythmic, and ensemble)

Beginning to play solos in the early years of Musikgarten classes (Cycle of Seasons, God's Children Sing, Music Makers: At Home in America, Music Makers: Around the World, and both years of Music Makers: At the Piano) will help reduce performance anxiety later

Students participate in "Vocal Sharing" (singing solos) during class time and parent time; this builds confidence in performance, develops performance skills, and teaches all students to be respectful listeners

The students will be performing in a formal recital given each year by Jennifer Tutt's private lesson students, the Musikgarten Gala Recital, as well as other performances throughout the year
Students can take private lessons for voice or other instruments while doing the Musikgarten Chorus (this will only serve to benefit the student, but is not required)

Note

: In teaching private lessons for 24 years, Jennifer has found the Musikgarten students to learn faster and more easily than students with no prior background. This is not to say that any student, at any age, with any level of background cannot learn to play instruments/sing well. It does mean that the more years of Musikgarten experience, the greater a student's ability to meet the challenges of making music.