Music Makers: At Home in America (4-7 yr)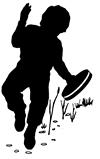 Music Makers: At Home in America
is a 45-minute class in which students use flashcards to begin learning about rests, common melodic patterns, rhythmic patterns in duple and triple meters, and dynamic markings. In the earlier Musikgarten age groups children learn elements of music like steady beat, rhythm, melody, and expression by "doing." Music Makers is the first of the Musikgarten classes to begin actively discussing "how" music is read and written.
Music Makers is a wonderful preparation for future private music lessons, although students need not be planning to take music privately to enjoy the academic benefits of class. While we begin more advanced intellectual and musical activities, there is still lots of time for singing, dancing, reading stories and poetry, games, and instruments, including maracas, bongos, tambourines, the glockenspiel, metallophone, resonator bars, and keyboards. We likewise use posters and listening activities to begin identifying musical instruments from the woodwind, brass, string, and percussion families.
There are three semesters in a year, covering a total of 6 units: 1) My Home Place, 2) My Neighborhood Community, 3) Woodlands, 4) Cattail Marsh, 5) Meadow, and 6) Seashore.
---
To register for this class, please go to the "Registration and Order Forms" page. Trial classes available by appointment only.
---
Supplemental material for Music Makers: At Home in America may be purchased using the Order Form. Please complete the Order Form and send it, along with payment, to 601 Deltino Ct., Lexington, KY 40515. Upon receipt of your order, we will contact you to confirm.

HOW WILL MUSIC MAKERS: AT HOME IN AMERICA BENEFIT MY CHILD?
Learn about the music, instruments, history, food,
culture, and customs of a variety of countries and
ethnicities, including the United States.
Children enjoy intricately choreographed social dances with scarves and hoops.
Early multi-cultural education promotes tolerance and respect for others.
Children learn vocabulary, songs, poems, and stories from other languages.
Class involves in-depth studies of many different composers and performers, including Bach, Handel, Mozart, Haydn, Strauss, Beethoven, Dvorak, Copland, Louis Armstrong, Scott Joplin,
and others.
Students study national heroes and historical figures of America and other countries.
Students learn the geography and landmarks of each country, including the U.S.
Students listen to lesser-known instruments like the zither, Irish harp, pipe organ, Indian flute, harpsichord, Scottish bagpipes, and tubular bells.
Students learn to read and write music using flashcards and song pages.
Students begin to play in ensembles using the glockenspiel, resonator bars, metallophone, maracas, bongos, triangle, guiro, rattles, jingles, drums, rain stick, sand blocks, and rhythm sticks and occasionally keyboards.